INCREASE USABLE SPACE AND DECLUTTER YOUR LAUNDRY ROOM WITH THESE HOME IMPROVEMENT IDEAS
"No matter how big or small your utility room is, ensure that you make the best use of every square inch of available space in order to free up the rest of the house, as well as concentrating on making it a well designed and attractive area" – George Clarke
A well-designed utility room, however big or small can be a selling point for your property as well as making your life easier. So if you have fallen into the trap of thinking that your utility room has to be a dull, dreary, cluttered space, think again.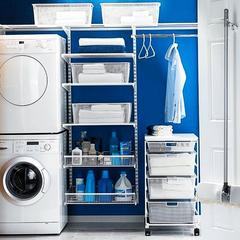 Here are 4 top tips to help you make the most out of this important and functional space.
Increase the usable space for your utility room by turning your attention to the door and windows.
Improve your utility room layout
Clever storage ideas
It doesn't have to be drab… add a splash of colour
INCREASE THE USABLE SPACE FOR YOUR UTILITY ROOM BY TURNING YOUR ATTENTION TO THE DOOR AND WINDOWS.
The utility or laundry room is an important room and it needs to be size appropriate for your house. You can make improvements by looking at the impact the door and windows have on your layout.
Ask yourself the following questions:
Does your utility door open into the room? If so consider taking the door off and replacing it with a pocket sliding door. A wall mounted sliding door will take up wall space either inside the utility room or on the wall in the adjoining room which is not ideal. A pocket door, when opened will slide back into a cavity inside the wall and so free up space in both rooms. By making this simple change you can gain back useful space without having to move walls! https://www.decorpad.com/search/laundry-room-pocket-doors has lots of examples of utility rooms with pocket doors.
Would it be possible to move the windows? Make them smaller? Natural light is great, and you certainly don't want to be forced to do the chores in a poorly lit, unattractive environment but you could consider resizing or repositioning the windows to give you more wall space for wall mounted storage.
IMPROVE YOUR UTILITY ROOM LAYOUT
Before you start designing your utility room layout make a list of essential items for your laundry room based on how you want it to function, for example:
Washing machine
Dryer
Line dryer
Space to hang dry clothes for airing
Storage for cleaning and laundry products
Storage for laundry baskets
Counter space to fold and sort clothes
Sink for hand washing
Space for storing the vacuum cleaner and brooms etc
Space for storage ironing board and possibly also a space for ironing
If you have a smaller utility room you may not be able to accommodate all your requirements but with some clever planning, there is no reason why you cannot tick quite a lot off this list.
Assuming you have already maximised your floor and wall space you can start by designing your layout.
A popular way of optimising the space is to stack your washing machine and tumble dryer. There are stacking kits widely available that will allow you to safely do this. You will also need to think about the type of tumble dryer you have and how it is vented, if it is not a condensing dryer.
If your utility area is quite small you will need to decide on your priorities for the space. A sink is a useful addition to a utility, although if you are short on space you may need to consider the trade off between a sink and more counter space. It will depend on your family's needs. If for example your laundry room also doubles as a boot room for dirty football or rugby kit, you will need a sink so that dirty boots can be cleaned. If you have a dog you may also need a sink to be able to wash off dirty paws after a long walk in the rain.
However if you are free from these considerations and wish your laundry room to be a place where you can sort and also iron clothes more counter space will be invaluable.
If you require space to dry wet clothes then a wall or ceiling mounted airer is a must and you will need to allocate some space to it.
Storage is also essential whether it comes in the form of cupboards or shelves. Free standing alternatives can be used if wall mounted cupboards aren't a possibility. Work out how much storage you will need to keep your surfaces from getting cluttered.
For inspiration on styles and layout for your laundry room have a look at
CLEVER STORAGE IDEAS
If you have a limited amount of space you will need to be quite creative about how you organise your storage. Under counter and eye level storage units in a utility are incredibly useful. If you cannot stretch to storage cupboards open shelves are a possibility. Plastic or linen containers are a must to help you organise the space.
Laundry bag sorters are a great way to organise your whites and coloured washing ready for the machine. A wall mounted hanging rack for your iron and ironing board is a great way to keep your ironing equipment tidy. Alternatively if you really are short of space a wall mounted drop down foldaway mini ironing board could be a perfect solution for you. Sites like these have great ideas to help you get organised.
ADD A SPLASH OF COLOUR
Whilst we would definitely advise you to avoid dark colours in your utility room there is nothing to stop you having fun with colour. The colour can be on the walls, or be provided by the storage cupboards doors or the storage boxes on your shelves. Have a look at these utility rooms that haven't shied away from incorporating a splash of colour in the design.
Images are from decoist.com/2012-02-07/coolest-laundry-room-design-ideas/