CHOOSING YOUR ROCKET POCKET DOOR KIT
The Rocket Pocket kit comes in 5 specific sizes, each made for a standard US door size so you can choose the door you want and it fits first time, every time!!
Max door weight is 130lbs which covers most standard doors.  For a double door just buy two singles, they come with a joining bracket completely free of charge with each unit.
So you can choose you door panel size from the table below or if the overall space is the more important factor then find the nearest and you will see what door size you need to purchase.  It's really simple!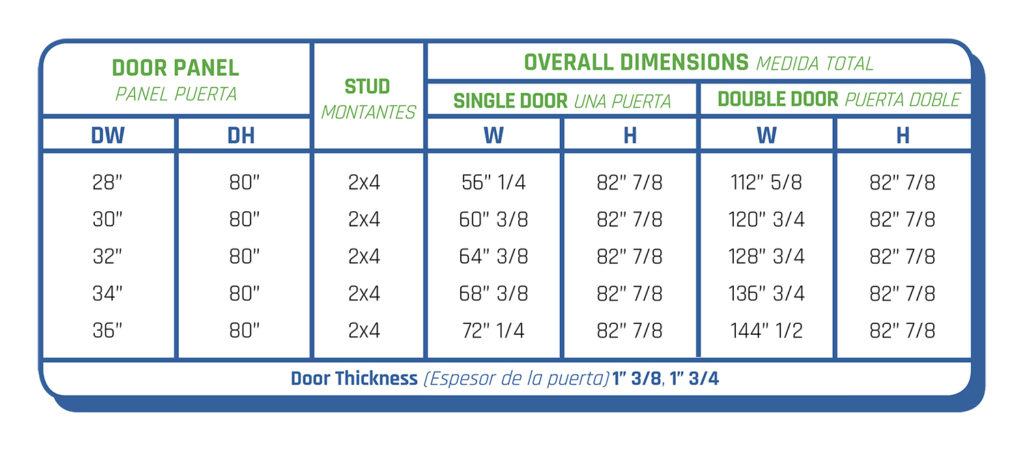 WHAT DO YOU GET WITH THE KIT
A complete galvanised steel pocket and integral running track, both corrosion resistant.
A set of runners each having two 'sealed for life' chrome steel bearing wheel that are contained within the track and cannot 'jump' off the rails.
A spring steel braking system is included as standard and brakes the door closure under normal usage.
Door brackets to attach the door to the runners, these have the possibility to adjust up to 3/10″ so your door can be at the perfect height (remember to always install your frame at finished floor level)
Included also are 3/4 in. plasterboard screws for attaching your plasterboard to the framework. These are important as they are just the right size to attach the board and not protrude too much with the risk of scratching your door.
Lifetime warranty against manufacturing and material defects.
So that's it, everything you need to make a door of your choice into a pocket door. You need only to supply the door, plasterboard and any wood jambs you choose.
WHY BUY A ROCKET POCKET DOOR – THE ADVANTAGES ARE HERE…….
| | |
| --- | --- |
| Pre-cut galvanized steel uprights and horizontals make up the pocket, so there is no risk of warping as you would have with wood. | Simple to use brackets screw straight onto the stud work and double as a way to position the plasterboard. |
| We have a Rocket Pocket door kit to fit most US standard door sizes. You can buy a kit to fit your exact door size so there is no cutting, trimming or adjusting required to make the pocket fit.  | There is no floor track so you can continue the floor surface through the door with no threshold. It has an adjustable pocket entrance guide so you can use 1 3/8″ and 1 3/4″ door thickness. |
| The door brake, made from special spring steel, ensures that during normal use the door will not slam against the door post. | Our runners have chrome steel 'sealed for life' bearings for years of sliding pleasure. |